Old Toilets Put City on Greenroads Path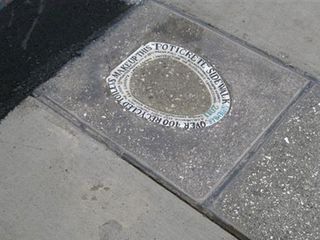 (Image credit: Freeman Anthony)
What do you do with 5 tons of old toilets? The city of Bellingham, Wash., found a creative (and sustainable) answer: Make sidewalk.
A section of a sidewalk installed as part of a road improvement project replaces conventional concrete with so-called "poticrete," which contains crushed porcelain instead of gravel.
The pieces of old toilets, crushed into three-quarter inch (1.9-centimeter) pieces, replaces about one dump-truck load of gravel, which would otherwise come out of a hillside somewhere, and saves about 5 tons of material — the toilets — from a landfill, according to project engineer Freeman Anthony.
When crushed up, the porcelain looks and performs like rocks, Anthony told LiveScience. [Photos: Making of a Green Road]
The city used the poticrete in a small part of sidewalk in the the half-mile (0.8-kilometer) Meador Kansas Ellis Trail project in Bellingham. The project, which improved sidewalk and road along an existing corridor, is the first roadway construction project to earn a Greenroads certification. Greenroads is an independentrating system developed at the University of Washington to promote sustainable roadway construction, similar to LEED certification for environmentally friendly buildings.
The project, which was completed at the end of the year, also made use of about 80 tons of crushed, recycled concrete, and about 30 percent of asphalt laid down was recycled material. Porous concrete was included to reduce runoff, low-energy LED lights were added to reduce electricity use, and the project itself improved pedestrian and bicycle access.
The toilets came from the Bellingham Housing Authority, which had received a federal grant to replace its old toilets with more water-efficient, low-flow toilets. A local nonprofit, Sustainable Connections, helped the housing authority secure the grant, and the nonprofit called Anthony with the suggestion that the city make use of the porcelain.
The project's contractor, Larry Brown Construction Inc., installed the poticrete. The recycled materials used cost slightly less than conventional ones, Anthony said.
"The long and short of it is, there is a lot of useful material out there that can be used in public construction projects," he said.
You can follow Live Science senior writer Wynne Parry on Twitter @Wynne_Parry. Follow Live Science for the latest in science news and discoveries on Twitter @livescience and on Facebook.
Stay up to date on the latest science news by signing up for our Essentials newsletter.
Wynne was a reporter at The Stamford Advocate. She has interned at Discover magazine and has freelanced for The New York Times and Scientific American's web site. She has a masters in journalism from Columbia University and a bachelor's degree in biology from the University of Utah.