3-D Printed Bikini Tests Fabricated Fashion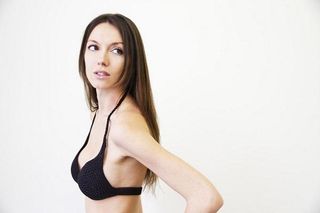 (Image credit: Contiuum)
Bespoke tailoring usually applies to men′s suits, and conjures up an image of Seville Row craftsmen doing things the old fashioned way. The introduction of the 3-D printed bikini flips that image on its head, showcasing how computer generated tailoring can produce the custom fit needed for female apparel that demands high quality in form and function. Designed by Continuum fashion, in cooperation with Shapeways 3-D Printing, the N-12 bikini tests the limits of fabricated clothing as much as it looks good on the beach.
The bikini itself is composed of small nylon disks held together like pieces of armor. The nylon is laser sintered into place using Shapeways' 3-D printing machine. According to Fabbaloo, each component such as the cups, the halter and the strap are custom-designed and sold separately, for a total of $275.
While a bikini usually has less material than any other piece of apparel, make no mistake, it is a high-performance piece of equipment that really taxes a design scheme. The bikini top has to cover irregular shapes, support what can amount to significant weight, fit closely against an asymmetrical area, retain its shape and function in wet and dry conditions, and withstand the pounding of waves and the stress of diving without shifting in position. Needless to say, that's more complexity than one expects out of a t-shirt.
As such, the N-12 bikini serves as the test bed for the future of fabricated clothing. 3-D printed clothing holds the promise of exact customization, downloadable designs and open-source fashion. And if it works in a bikini, it should work in a pair of pants. Whether or not the N-12 succeeds as is, or if it is merely an experiment whose failings will inform future designs, remains to be seen.
This story was provided by InnovationNewsDaily, a sister site to Live Science. Follow InnovationNewsDaily on Twitter @News_Innovation, or on Facebook.
Stay up to date on the latest science news by signing up for our Essentials newsletter.
Stuart Fox currently researches and develops physical and digital exhibit experiences at the Science Liberty Center. His news writing includes the likes of several Purch sites, including Live Science and Live Science's Life's Little Mysteries.