Checkup at Age 1 Could Catch Early Autism Signs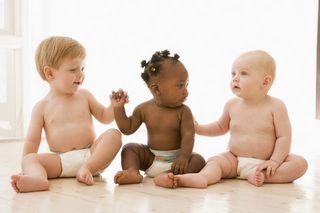 (Image credit: Dreamstime)
A reliable autism diagnosis is usually made, at the earliest, at age 3. But a screening exam at a "well-baby" checkup at age 1 could alert doctors to early signs of autism and language and developmental delays, according to a new study.
The exam includes a questionnaire for parents to determine infant's use of eye contact and recognition of objects, sounds, words and gestures.
University of California San Diego researchers tested the method by having 137 pediatricians in the San Diego area administer the screening exam to their infant patients during their one-year checkup.
Nearly 10,500 1-year-olds were screened, and of those infants, 184 failed the first screening exam. Those who failed the first exam were then referred to the UC San Diego Autism Center of Excellence, and re-evaluated every six months thereafter until age 3 (the age at which a reliable diagnosis of autism can be made).
Of those infants who failed the first screening exam, 32 received a final diagnosis of an autism spectrum disorder, 56 were diagnosed with language delay and nine were diagnosed with a developmental delay, the study said.
"When we started giving parents the survey, I found that they listened more carefully to what I had to share with them and paid more attention to their child's development," pediatrician Dr. Chrystal E. de Freitas, who participated in the study, said in a statement.
Even though no parent wants to hear that his or her child may have developmental delays, language delays or autism, identifying the issues early can help get the child into therapy sooner, Freitas said.
Early intervention can help a child with an autism spectrum disorder learn proper communication and social interaction skills, according to the National Institutes of Health. Autism therapy can also include physical and occupational therapy.
Autism affects as many as 1 in 110 children in the United States, though the disorder is more common in boys than in girls, according to the Centers for Disease Control and Prevention.
The study detailing the practice and effects of the well-baby screening method was published online today (April 28) in the Journal of Pediatrics.
Pass it on: A well-baby screening exam at 1year old could predict future developmental delays or diagnosis with an autism spectrum disorder.
Follow MyHealthNewsDaily staff writer Amanda Chan on Twitter @AmandaLChan.
This story was provided by MyHealthNewsDaily, a sister site to LiveScience.
Stay up to date on the latest science news by signing up for our Essentials newsletter.
Amanda Chan was a staff writer for Live Science Health. She holds a bachelor's degree in journalism and mass communication from the Walter Cronkite School of Journalism and Mass Communication at Arizona State University, and a master's degree in journalism from Columbia University.