New In-Car Device Warns Speeding Drivers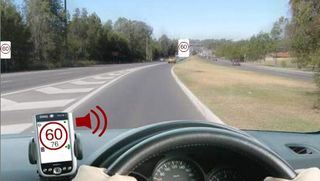 (Image credit: Smart Car Technologies Pty)
An Australian company has developed a system that lets drivers know when they're speeding. When the technology becomes commercially available, it could help lead-footed drivers avoid tickets and also save lives.
It could even be used by parents to monitor teen driving.
The product, called SpeedAlert, links real-time location data and speed obtained with the help of the Global Positioning System (GPS) to a database of posted speed limits stored in a driver's PDA or programmable mobile phone.
Smart Car Technologies, a Sydney-based company that developed the product, hopes to convince Australian government agencies to deploy the technology in their automobile fleets. The product will soon go on sale in Sydney.
How it works
The setup does not need to be hooked up to a car's speedometer. In fact, it is entirely portable. A GPS receiver placed on the dashboard communicates with the PDA via a Bluetooth wireless connection. It will also work with newer phones and PDAs that have built-in GPS receivers.
If a driver exceeds the speed limit, the speed is shown on the PDA and an alert sounds if the driver doesn't slow down.
A voice let's you now if you're approaching a school zone and the screen displays the current speed limit based on whether school is in session.
"It's a clever idea," said Federal Industry Minister Ian Macfarlane of the Australian government, which helped fund research into the product.
The company hired Michael Paine, an Australian vehicle design engineer and traffic safety consultant, to do an independent analysis of the product.
Paine told LiveScience that his colleagues in the road safety field are "very enthusiastic" about what they're now calling "intelligent speed alert." Other research, according to Paine, shows that 40 percent of all traffic fatalities involve speeding.
There is also a potentially controversial future use:
"Since the system is so portable, it would be easy to make it a requirement for teenage drivers to always use a speed alert device when driving," Paine said. "The system even has the capability to record speeding violations so parents can monitor their teenage drivers."
Saving lives
Developing speed alert systems is high on the agenda of European governments, which cooperate on overall Intelligent Transportation Systems (ITS) strategies. The European Commission supports a separate project, also called SpeedAlert, whose web site states: "In-vehicle speed information and warning system can significantly contribute to road safety."
Paine said ITS planning in the United States seems to lack a speed-alert strategy.
Each year, more than 40,000 Americans are killed and nearly 3 million injured in some 6.3 million traffic accidents. The odds of dying in a traffic accident are about 1-in-100 for a U.S. resident. And motor vehicle crashes are the leading cause of death for those ages 2 through 33.
In the "United States, almost half of all fatalities to seat-belt wearing drivers occur at impact speeds of 30 mph or less," Paine said. "Traveling at just 3 mph over the posted speed limit can double the risk of a fatal crash."
Paine figures that, as a conservative estimate, some 10 percent of U.S. auto fatalities would be avoided if 20 percent of cars had intelligent speed alert. "Fatalities would drop by more than 30 percent if everyone stuck to the posted speed limits," he said.
Stay up to date on the latest science news by signing up for our Essentials newsletter.
Robert is an independent health and science journalist and writer based in Phoenix, Arizona. He is a former editor-in-chief of Live Science with over 20 years of experience as a reporter and editor. He has worked on websites such as Space.com and Tom's Guide, and is a contributor on Medium, covering how we age and how to optimize the mind and body through time. He has a journalism degree from Humboldt State University in California.