U.S. Considers 'Internet Access for All'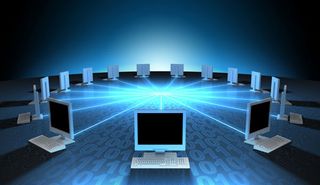 Next month, the United States will introduce a national program aimed at giving every American access to a fast Internet connection, raising the standard from a dial-up connection to broadband. Unlike other nations, however, the U.S. will stop short of declaring broadband access a basic human right.
For some, the right to access the Internet might pale in comparison to other basic human rights, such as the right to life, freedom of expression and equality before the law, but the United Nations' Universal Declaration of Human Rights also includes the right to education and the right to work, which may hinge on Internet access.
The United States is currently the only industrialized nation without a national policy for Internet access. Estonia, Greece, France and Finland have recognized Internet access as a basic human right in accordance with the United Nations recommendation.
In 2009, Finland became the first nation to mandate universal broadband along with a minimum speed. All Finns must have access to a 1-megabit per second broadband (Mbps) connection within 2 kilometers of their homes. Finland plans to increase the speed of connection for its populace from 1Mbps to 100Mbps by the end of 2015. What does it mean for Finns? Instead of minutes, data transfers for most tasks — including web browsing, movie streaming and large file downloads — will take only a few seconds.
A necessity in modern life
American citizens who can't access the Internet are at a severe disadvantage, experts say. According to Blair Levin, executive director of the Federal Communications Commission's (FCC) Omnibus Broadband Initiative, more than three-quarters of U.S. companies now accept resumes only online.
The FCC is spearheading the national broadband plan to accelerate broadband deployment across the United States, especially in poor and rural areas. The agency will present its plan to the House Energy & Commerce Subcommittee on Feb. 13.
"In the U.S., if we are serious about equality of opportunity, access to the Internet could be strongly defended as a human right," Jerry Lanier, the U.S. Ambassador to Uganda, told TechNewsDaily.
"Imagine the incredible advantage of those children in homes which have Internet access over those who live in homes where such access does not exist," said Lanier, who has an interest in broadband rights.
Not so long ago, both job and school applications were neatly typed or written in pen, folded, slipped into an envelope, addressed, stamped and sent off in the mail. No more. Most universities and employers now require an email address just to start the application process. In some cases, Americans who do not have Internet access lose the opportunity for further education and a job.
"What's astounding is the fact that in today's world, employers may not require a physical address, but they sure all do require an email address," said Will Howard, who oversees the computer lab at the Information Resource Center in Greensboro, NC, a resource center for the homeless and those at-risk for homelessness.
"Without Internet access, our clients don't stand a chance," Howard said.
America lagging
In his "Blueprint for Change" economic recovery document, President Obama said that America "should lead the world in broadband penetration and Internet access."
Data indicates, however, that the U.S. is far behind other nations when it comes to providing broadband access for its citizens. Figures from the Organization for Economic Cooperation and Development (OECD) show a sharp decline in U.S. broadband access rank among its 30 member nations. In 2001, the U.S. ranked 4th, but by the end of 2008 had fallen to 15th place.
As for speed, Akamai, one of the largest global networks, released its "Q3 2009 State of the Internet" report that shows the U.S. 18th with an average connection speed of 3.9 Mbps. In first place was South Korea, which clocked in at 14.6 Mbps.
President Obama allocated $7.2 billion dollars for broadband deployment and adoption in his stimulus package for economic recovery, but will it be enough to reach his goal for the country?
According to Brian David, director-adoption and usage for the FCC initiative, 65 percent of U.S. homes subscribe to broadband service (other surveys put the figure at 60 percent), 5 percent do not have access, and 30 percent have access, but do not subscribe. He said the plan may end up establishing goals for broadband adoption rates in the U.S. to hit the "high 70s" by 2015, with a longer term target of 88 to 90 percent adoption rates.
In a C-Span televised interview last December, FCC's Levin said it would cost $350 billion to provide broadband Internet access at a speed of 100Mbps to all Americans.
If Americans are willing to settle for slower Internet speeds, however, it could be done with the money already allocated, he added.
"If we want to make sure that 90 percent of Americans receive broadband speeds of 10Mbps, it's not clear to me there's any gap it all," Levin told C-span. "That is to say, I'm not sure we need any new government dollars."
Stay up to date on the latest science news by signing up for our Essentials newsletter.
Leslie Meredith is a contributor to Live Science. She has a bachelor's degree from UCLA in psychology and has directed tourism and ski publications for the Salt Lake Visitor & Convention Bureau and managed promotions and events for Sunset Magazine.