Guidebook to NYC Nature Surprisingly Lively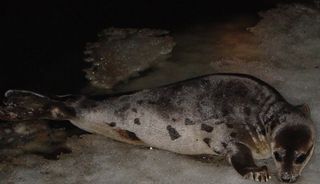 (Image credit: Clodagh Green)
A guidebook to nature in the Big Apple would range from slim to empty, one might think. Try again. Painted turtles, American eels, dwarf centipedes, Eastern spotted newts, black-crowned night herons and Manhattan schist rocks are among the highlights of Leslie Day's "Field Guide to the Natural World of New York City" (Johns Hopkins University Press, 2007). You can probably find all that in Central Park, but Leslie Day's 353-page guide encourages urban naturalists and explorers to dig deeper and check out dozens of other parks and "Forever Wild" sites in all five boroughs. The City, located at the mouth of the 300-mile-long (480 kilometers) Hudson River and including several islands, sits under the prime route traveled each spring and fall by birds that migrate along the Atlantic Seaboard. So it's prime real estate for more than the business of human culture and finance. The book would be good company for an amateur naturalist on a city jaunt. Along with basic park-by-park wildlife descriptions and maps, Day included a classic illustrated index of the common and Latin names, locations and ecological roles of animals and plants you'll most likely run across in New York. There are also brief chapters dedicated to mushrooms and geology. The guide's images of the City's life forms reflect their urban abodes. For instance, some of the color tree photos taken by Day and others, as well as wildlife illustrations by Carnegie Museum of Natural History artist Mark A. Klingler of more than 132 species, show flora and fauna in actual settings — adjacent to brownstones or park ponds with sky scrapers on the horizon.
Stay up to date on the latest science news by signing up for our Essentials newsletter.
Robin Lloyd was a senior editor at Space.com and Live Science from 2007 to 2009. She holds a B.A. degree in sociology from Smith College and a Ph.D. and M.A. degree in sociology from the University of California at Santa Barbara. She is currently a freelance science writer based in New York City and a contributing editor at Scientific American, as well as an adjunct professor at New York University's Science, Health and Environmental Reporting Program.