China's Controversial Three Gorges Dam Spotted from Space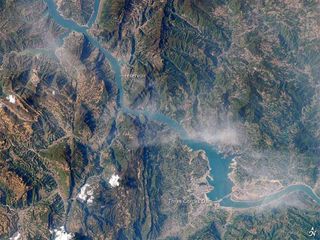 (Image credit: NASA)
A new photo taken from space reveals the planned flooding behind the controversial Three Gorges Dam in China.
The dam — the largest in the world — was completed in 2006, and supplies water for the Earth's largest hydroelectric plant. The recent picture was captured April 15 by astronauts aboard the International Space Station.
While the dam generates a huge amount of much-needed power, critics object to its environmental and social impacts.
Construction of 1.5 mile (2.3 km)-long structure and the ensuing reservoir of backed-up water has forced the relocation of 1.2 million people. Because of the dam, 13 cities and more than 1,300 villages were flooded, including some archeological locations. This flooding is visible in the photo, where the newly-created narrow reservoir spreads out behind the dam.
The environmental effects of the Three Gorges Dam are complex. For better and worse, it has drastically reshaped the natural ecosystem.
While the dam does help forestall the devastating floods that plague the lowlands downstream, it creates new risks, critics charge. The water buildup could increase the chances of landslides, waterborne diseases, and even earthquakes, scientists have said.
Stay up to date on the latest science news by signing up for our Essentials newsletter.
Clara has a bachelor's degree in astronomy and physics from Wesleyan University, and a graduate certificate in science writing from the University of California, Santa Cruz. She has written for both Space.com and Live Science.