Six Months Since Sandy: A Long Road Ahead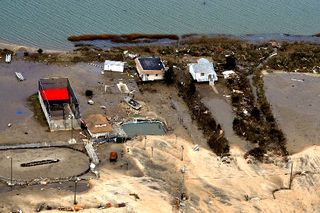 (Image credit: U.S. Geological Survey.)
This article was provided by AccuWeather.com.
As today marks six months since Superstorm Sandy made landfall on the New Jersey coast, many victims of the storm continue to rebuild homes and businesses, while disaster relief organizations move forward on the next stage of recovery.
The rebuilding process has been a long one for most home- and business owners, some of whom lost all of their possessions or have had to lift their homes as high as 12 feet due to new flood zone regulations.
Others have not yet begun the process, as they await for flood maps to be finalized for their communities.
"We've definitely transitioned from that immediate emergency relief phase to the long-term recovery phase," American Red Cross Spokesperson Anne Marie Borrego said.
RELATED: Superstorm Sandy: By the Numbers Timeline of Sandy, Controversy Surrounding the Storm
The Red Cross says they are unable to put a timeframe on the duration of this rebuilding process, stating the long-term recovery as the 'trickier' piece in the equation. However, Borrego anticipates that they will be there "for quite some time."
"We like to say that recovery is a marathon and not a sprint. If you think about it, after Katrina our work there lasted for five years. Our work in Haiti is entering its third year, and we're actually still helping those affected by the tornadoes in Joplin, Mo.," she said.
"This was the largest domestic disaster we had worked on in five years."
The American Red Cross continues to provide assistance in both New York and New Jersey, states that were deemed to have been hit the hardest. They have provided more than 9,000 families with assistance for home repairs, rent and utility deposits and raised $302 million for Sandy recovery.
FEMA continues to undergo similar projects, such as providing temporary housing and grants to those who qualify.
To date, the agency has allocated $1.1 billion for response and recovery in New Jersey.
Representatives from FEMA did not return requests for comment.
Despite the hardships incurred by this unusual and 'perfect' storm, as some have described it, Red Cross volunteers attest that the overall attitude of those affected remains positive.
"Often times [Red Cross volunteers] are really struck by the resiliency of the folks on the ground. People whom we have helped have turned around and become volunteers and decided to help their own communities," Borrego said.
"They don't want to give up and we don't want to let them."
AccuWeather.com. All rights reserved. More from AccuWeather.com.
With much of the country experiencing an unseasonably warm winter, fears of climate change come to mind. See how well you understand recent weather, climate and the difference between them.
Weather vs. Climate Change: Test Yourself
Stay up to date on the latest science news by signing up for our Essentials newsletter.