Interracial Marriages Soar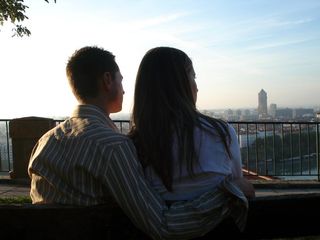 (Image credit: stock.xchng)
Nearly 15 percent of new marriages in the United States in 2008 were between spouses of different races or ethnicities, a number that's six times that found in 1960, according to a report by the Pew Research Center released today.
The top three states for intermarriages were: Hawaii, Nevada and Oregon.
In 1961, when President Obama was born, less than one-in-1,000 new marriages in the United States were between a black and a white, as was the case with Obama's parents. By 1980, the Pew survey shows that share increased to one-in-180, and by 2008 to one-in-60.
The dramatic rise in overall intermarriages (not just black-white) has been partly driven by a large wave of immigrants from Latin America and Asia over the past several decades, along with a breaking down of longstanding cultural taboos against interracial marriages, Pew scientists suggest.
The results come from a Pew analysis of the most recent data on the topic from the U.S. Census Bureau.
Racial and ethnic trends
Of the 3.8 million adults who married in 2008, 9 percent of whites, 16 percent of blacks, 26 percent of Hispanics and 31 percent of Asians married someone whose race or ethnicity was different from their own. For whites these shares are more than double what they had been in 1980, and for blacks they are nearly triple. For Hispanics and Asians, these rates are little changed from 1980.
Black-white couplings represented only one-in-nine of the new interracial or interethnic marriages in 2008. White-Hispanic couples made up the lion's share, 41 percent of these new marriages, while white-Asian couples made up 15 percent.
Among blacks, men are more likely than women to marry out, with 22 percent of black male newlyweds and 8.9 percent of black female newlyweds marrying someone who was not black in 2008. Those numbers had increased from 1.3 percent and 0.9 percent, for black men and women, respectively, in 1960.
This increase in intermarriages among blacks is in stark contrast to the overall decline in marriages found among this race, about a 30-percent drop between 1970 and 2007 for both black men and women ages 30 to 44. Marriage rates also declined for young whites during this time period, but not by as much.
Top regions for "marrying out"
About 21 percent of all newlyweds in Western U.S. states married outside of his or her race or ethnicity, compared with 13 percent in the South and Northeast and 11 percent in the Midwest.
The top nine states for out-marriage rates, each with rates of 20 percent or more, are located west of the Mississippi River and include: Hawaii (43 percent), Nevada (28 percent), Oregon (24 percent); Oklahoma (23 percent); California (22 percent); New Mexico (22 percent); Colorado (21 percent); Arizona (21 percent); and Washington (20 percent).
Of all newlyweds in 2008, 15.5 percent of those who attended college married outside their race or ethnicity, compared with 13.5 percent of those with only a high-school education and 11 percent of those who didn't complete high school.
History of marrying out
The increases make sense when you take a look into our nation's past, the analysts say.
For most of our nation's history, state laws made it illegal for whites and non-whites to marry. In 1967, the U.S. Supreme Court ruling in Loving v. Virginia resulted in such anti-miscegenation laws becoming unconstitutional for the 15 states that still had the laws.
Even so, popular opinion lagged, and two decades later in 1987 just 48 percent of the public said it was "okay for whites and blacks to date each other," according to Pew scientists. That number for those who were OK with inter-dating increased to 83 percent by 2009.
Actually marrying (not just dating) an "other" wasn't as popular. A Pew survey in 2009 revealed 63 percent of respondents said it would be fine with them if a family member married "out" to all three other major racial and ethnic groups tested in the survey (white-American, African-American, Hispanic-American, Asian-American). Eighty percent of respondents said they'd be fine with a new spouse in their family who came from at least one of the "out" groups.
Marrying out was slightly more acceptable when the "out" group was a white-American than if another of the groups studied.
The findings are based primarily on Pew Research Center's analysis of demographic data about new marriages in 2008 from the U.S. Census Bureau's American Community Survey (ACS) and the Pew Research Center's analysis of its own data from a nationwide telephone survey conducted from Oct. 28 through Nov. 30, 2009 among a nationally representative sample of 2,884 adults.
Stay up to date on the latest science news by signing up for our Essentials newsletter.
For the science geek in everyone, Live Science offers a fascinating window into the natural and technological world, delivering comprehensive and compelling news and analysis on everything from dinosaur discoveries, archaeological finds and amazing animals to health, innovation and wearable technology. We aim to empower and inspire our readers with the tools needed to understand the world and appreciate its everyday awe.