In-Car Technologies Not Safe for Drivers, Experts Say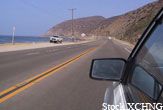 Technology is everywhere these days, and cars are no exception. From built-in Internet hot spots and iPad docks attached to seat headrests to state-of-the-art TVs, many drivers are cruising around with the latest high-tech frills and accessories in their ride.
But even when it is designed to help drivers keep both hands on the wheel, such technology can cause "cognitive distractions" and are ultimately dangerous, experts say.
Among the most controversial is Ford's latest enhancement of its popular voice-activated SYNC in-car communications system. The driver interface called MyFord Touch is entirely voice-controlled, including entertainment — AM/FM and satellite radio, HD, CD, MP3 — as well as climate control, phone and navigation.
MyFord Touch also uses the power of a smartphone to access and control other applications. Users have the ability to listen to streaming music from online music services, stay in touch with the news and check out the latest Twitter messages — all without taking their hands off the wheel.
Since SYNC technology does away with fumbling for the phone, allowing drivers to keep their eyes on the road, Ford says it can help make highways safer.
"Ford is committed to addressing driver distraction in empirical, research-driven ways and implementing our findings in active safety systems and advanced infotainment systems throughout our vehicle lines," Louis Tijerina, Ford senior technical specialist, said in a recent statement.
Distraction prevention
According to a recent study conducted by the Ford Motor Co. in 2009, the SYNC hands-free system significantly reduced the level of distraction for drivers who used it – from dialing a number to choosing a song — instead of hand-held devices.
Ford researchers measured total eyes-off-the-road time, deviation of lane position, speed variability and object detection response time to identify differences in attentiveness and driving performance while using the Ford SYNC technology. Ford found that drivers meandered over lane lines in more than 30 percent of trials using hand-held phones and music players, as compared to 0 percent when performing those same tasks with SYNC.
On its website, Ford also refers to a study from Virginia Tech that followed 109 drivers for one year, entailing 43,000 hours and over 2 million miles of driving. The report showed that manually dialing a hand-held device while driving (a task that requires looks away from the road) was almost 2.8 times riskier than just driving. Virginia Tech also reported that almost 80 percent of all crashes and 65 percent of all near-misses occurred just after a glance away from the road.
"These results strongly suggest that SYNC's voice-interface offers substantial advantages compared to manipulating a carried-in device to do the same task," Tijerina said.
The controversy
However, not everyone agrees that Ford's in-car technology is beneficial to drivers.
"Ford may say it's hands-free, but it's certainly not risk-free," said Robert Sinclair Jr., manager of media relations for the auto club AAA New York. "The distractions that do exist are very mentally distracting, especially when it comes to checking social networking sites. We find all of this very disturbing."
Sinclair said he believes engaging in social media sites while on the road demands significantly more concentration than a phone call.
"Going on Facebook or sending a Tweet is engaging in a complex conversation that should absolutely not be done while driving," he said. "Drivers are already controlling a heavy object, watching out for lights, signs and, of course, other vehicles. Just a two-second distraction is enough time for someone to be involved in a crash."
"Car manufacturers think they are doing the right thing and that they are on God's side by preventing someone from using a hand-held device, but it's just more harm than good," Sinclair added.
David Strayer, a cognitive scientist at the University of Utah who studies distracted driving, agrees that this type of technology in cars is unsafe.
"Some activities such as listening to the radio are passive, but others such as texting and checking Facebook are not," Strayer told TechNewsDaily. "The mind can only do one thing at once when driving – it's been long published in scientific journals. People who say that in-car technology is not distracting to drivers just don't know the science of the brain."
U.S. Transportation Secretary Ray LaHood is fighting to disable the use of certain technologies in cars. LaHood recently launched a "Faces of Distracted Driving" campaign, an online video series exploring the tragic consequences of texting and using a cell phone while driving.
The series features people from across the country that have been injured or lost loved ones in distracted driving crashes. In 2009, nearly 5,500 people died and half a million were injured in accidents involving a distracted driver.
"If there was a drug on the market that killed that many people each year, it would be immediately removed," Strayer said.
Strayer noted there is a huge social-political struggle on the table since tens of billions of dollars are at stake.
"There's a lot of money to be had for consumer electronic companies, automakers and others, but it also has a huge impact on insurance companies," Strayer said. "They are very alarmed and concerned about the trend and also don't want customers using any technology while driving."
More technology
Of particular concern for car safety experts is the installation of TVs inside vehicles – sometimes even in the front seats.
"Installing a TV anywhere in the front seat of a car is illegal in some states, including New York," Sinclair said. "Only navigation screens are allowed up front, and even those can be distracting."
In many cases, people with TVs in the front seats get busted. A driver in New York state was recently pulled over after he was spotted watching pornography from a front-seat TV while he was stopped at a light. (He didn't realize a police station was right across the street.)
Another man had installed 15 monitors in his vehicle – including one on the inside of the flap covering the gas tank, so he could watch TV as he refilled his car. He was also caught.
"This just goes to show the lack of seriousness and the attitude of those operating vehicles," Sinclair said. "Driving is not downtime to engage in other activities."
The distractions can be lethal. A truck driver who was watching a movie accidentally hit and killed a woman who was parked on the side of a highway.
"People know deep down they shouldn't be participating in these types of distractions while driving, but if they try it a few times because they are bored and don't crash, they think they are safe," Strayer said. "However, it's critical that people only focus on driving while driving. It's not the right time to be entertained."
Reach TechNewsDaily senior writer Samantha Murphy at smurphy@techmedianetwork.comThis e-mail address is being protected from spambots. You need JavaScript enabled to view it . Follow her on Twitter @SamMurphy_TMN
Stay up to date on the latest science news by signing up for our Essentials newsletter.
Samantha Murphy was a contributor to Live Science, covering the tech industry. She holds a degree in journalism and cinema studies from New York University.