The best Montessori learning toys
The best holiday gifts for babies and toddlers who follow the Montessori Method.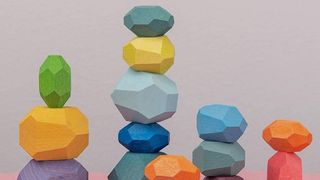 (Image credit: RubRab)
Maybe you've heard the word "Montessori" before. Maybe not. Either way, you've likely run across some Montessori toys.
Back in the late 1800s, Maria Montessori, an Italian physician, noticed that children naturally learn through the intrinsic motivation to pick something up and explore how it works. She developed a teaching method that embraces hands-on, multi-sensory activities that kids can investigate at their own pace.
The Montessori Method is still used in nursery and preschools today, but you can start at home long before your child gets to school ... or any time. Many of the toys marketed toward babies and toddlers follow the Montessori Method, providing sensory experiences that help young kids learn through exploration.
These are toys like the classic rainbow stacking rings and blocks that twist to form different three-letter words. Below, we've gathered some of the best Montessori toys available this holiday season.
Stay up to date on the latest science news by signing up for our Essentials newsletter.

Kasandra Brabaw is a freelance science writer who covers space, health and psychology. She has a bachelor's degree in science and a bachelor's degree of arts from the University of Syracuse; she completed her master's of arts degree in journalism at Syracuse University in 2014. In addition to writing for Live Science and our sister site Space.com, Kasandra has written for Prevention, Women's Health, SELF and other health publications. She has also worked with academics to edit books written for popular audiences.