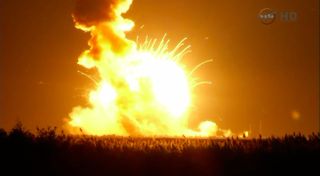 (Image credit: NASA TV)
A private Orbital Sciences-built cargo launch to the International Space Station ended in a fiery explosion just seconds after liftoff Tuesday night (Oct. 28).
Orbital's unmanned Antares rocket exploded in a brilliant fireball shortly after launching from NASA's Wallops Flight Facility in Virginia at 6:22 p.m. (2222 GMT), crashing back down to the launch pad in a flaming heap. The Antares was carrying Orbital's unmanned Cygnus spacecraft, which was toting 5,000 pounds (2,268 kilograms) of food, scientific experiments and other supplies to the station on this flight.
The launch was slated to begin Orbital Sciences' third cargo mission to the space station under a $1.9 billion contract with NASA. A NASA spokesman described the explosion as a "catastrophic anomaly" in a NASA TV webcast. While the assessment and investigation of the accident have just begun, launch controllers expressed optimism that it caused no injuries.
"There's no indication that there are personnel in danger, although we do have significant property damage and significant vehicle damage," a controller said during NASA TV's webcast of the failed launch attempt.
Orbital Sciences representatives were tracking no problems in the leadup to the launch. But upon ignition it soon became clear that something was wrong, said Robert Pearlman, editor of the space history news website collectSPACE.com (a Space.com partner). Pearlman watched the launch failure from just a few miles away at NASA's press site observation area.
As the vehicle was climbing off the pad, there was something trailing — a smoke and fire plume from the rocket itself — trailing from the rocket all the way up," Pearlman told Space.com. "As it cleared the top of the water tower, there was a clear break-apart, and the booster's integrity failed. There was then a tremendous fireball, trailed by a very loud explosion. Parts were sent flying everywhere, and then the vehicle fell back to the pad, exploding in an even larger fireball, setting the entire area on fire."
Tuesday night's launch try was Orbital's second attempt to launch the Antares rocket in two days. A launch attempt on Monday night was delayed when a boat wandered into the launch range safety area offshore.
NASA has tapped Orbital Sciences to provide eight cargo delivery missions to the International Space Station using the company's Antares rockets and unmanned Cygnus spacecraft. The Virginia-based company launched its first official cargo mission the space station earlier this year in January, with a second mission following in July. Both missions, as well as two test flights in 2013, were a success.
California-based SpaceX holds a $1.6 billion NASA resupply deal to make 12 robotic flights to the orbiting lab using its Dragon capsule and Falcon 9 rocket. To date, SpaceX has flown three of these missions without incident.
Editor's Note: This report will be updated as new details on the Antares launch failure become available.
Space.com managing editor Tariq Malik contributed to this story. Follow Mike Wall on Twitter @michaeldwall and Google+. Follow us @Spacedotcom, Facebook or Google+. Originally published on Space.com.
Stay up to date on the latest science news by signing up for our Essentials newsletter.

Michael was a science writer for the Idaho National Laboratory and has been an intern at Wired.com, The Salinas Californian newspaper, and the SLAC National Accelerator Laboratory. He has also worked as a herpetologist and wildlife biologist. He has a Ph.D. in evolutionary biology from the University of Sydney, Australia, a bachelor's degree from the University of Arizona, and a graduate certificate in science writing from the University of California, Santa Cruz.